Susan O'Halloran ~ "Who Gets to Call This Home?"
February 26 @ 5:30 pm

-

7:00 pm

|

FREE
Info
#FreeEvent Sue O'Halloran's stories take us on a journey from her front porch on the southside of Chicago to the wider world of international refugee crises and big city racial politics. Through humorous, touching and thought-provoking original stories, Sue will lead us to celebrate our less than perfect families, our own uncertain attempts to make a difference and moments from our country's history of which we can be proud and about which we so rarely hear.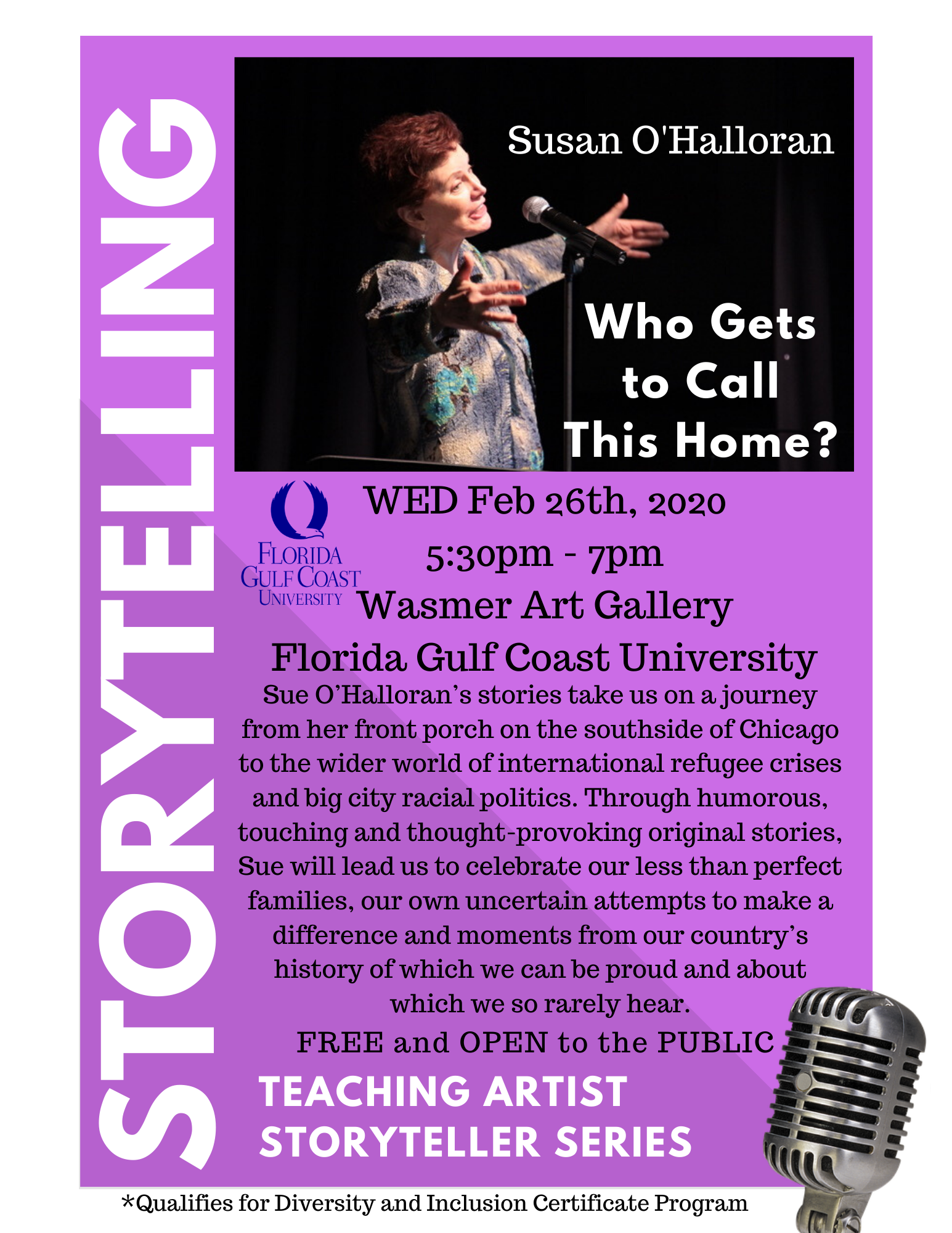 Sue O'Halloran has appeared on such media programs as PBS and ABC Nightline and has been featured in The New York Times, The Boston Globe and the Chicago Tribune. She has received the National Storytelling Network's Circle of Excellence and Leadership and Service awards and is a frequent featured teller at the National Storytelling Festival and the International Storytelling Center's Storytelling Live! Teller-in-Residence program. The Chicago Reader says O'Halloran "has mastered the Irish art of telling stories that are funny and heart-wrenching at the same time."
O'Halloran is co-producer of multicultural performances and internationally recognized films including Black, White and Brown: Tribes & Bridges at the Steppenwolf Theatre and More Alike Than Not: Stories of Three Americans – Christian, Jewish and Muslim.
Sue is author of 7 books and producer/director of the video stories on www.RacebridgesStudio.com which deals with issues of race and belonging and receives over half a million visitors each year. Sue teaches Diversity & Inclusion seminars and webinars around the country for corporations and nonprofits. Sue lives in Evanston, IL and can be found at: www.SusanOHalloran.com and www.RacebridgesStudio.com.